Technical Conference Gödöllő, Hungary, 31 March – 1 April, 2011
Proceedings of the conference in full are available in the website of HáGK. Respecting that at this event of ours the long term strategic issues of gene conservation concerning KÁTKI have also been discussed, we are going to publish here a more substantial summary of the conference.
Objectives of the conference are:
to initiate a regular dialogue among breed societies, off-society breeders, scientific researchers and planners of animal breeding, specialists conducting  ethnographical and ethno-zoological, as well as ethno-ecological studies, national breeding and research institutes, governmental institutions of nature conservation, producers manufacturing with a trademark of National Treasure Products Made of Renewable Energy Sources, self-provider farmers feeding themselves, craftsmen practicing relevant small crafts, people acting in household industry, shepherds keeping livestock, people giving lectures disseminating information, making technical training and touristic developments, representatives of animal health and state offices as well as legislative bodies in the hope of a more effective co-operation.
tracing the faults of research, co-ordination, assistance and utilization in the hope of their future improvement.
demonstration and evaluation of the present situation. Getting to know and making known the results, duties, non-conformities and the most necessary things to do.
making known and defining a new protection scheme of our traditional farm animals which is of wider range, more differentiated than before, more effective and can be better co-ordinated. This is to be achieved by targeted modification of the legal background.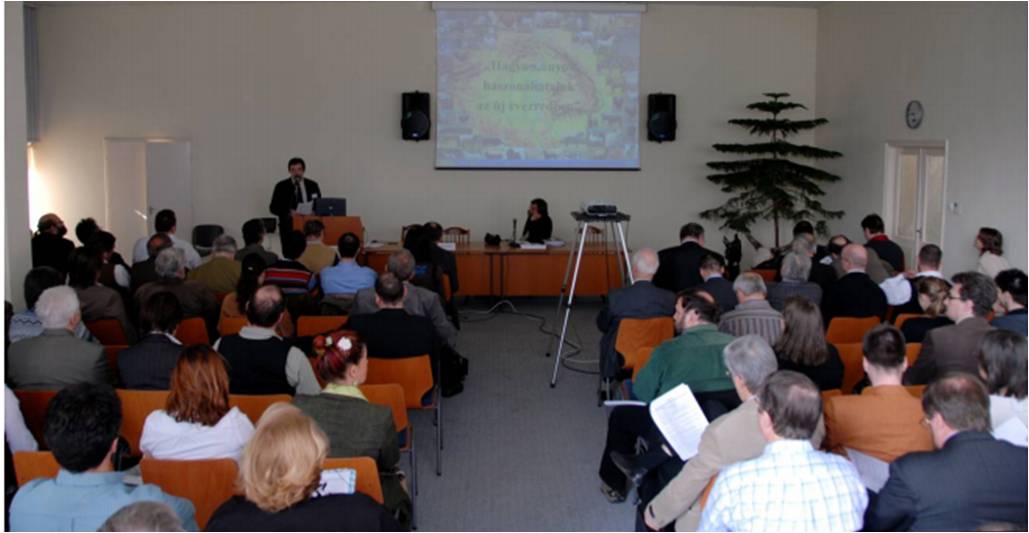 The most important gene conservation tasks of KÁTKI   
KÁTKI, having been established as a new institution as from November 1, 2010, and serving as a background institution for gene conservation of farm animals in Hungary, is in charge of  duties of research, education, gene bank activity and coordination alike in order to ensure the survival of traditional Hungarian breeds. The institution wishes to develop and operate an appropriate professional background for an integrated function of the Hungarian farm animal protection scheme. A key element of the co-ordination tasks in farm animal gene conservation is a constant co-operation with breeding organizations (breed societies) playing a role in gene conservation. Keeping continuous contact with breeders and breeding organizations provides such an opportunity of co-operation for the actors of gene conservation in the long run that was missing from the system of gene conservation in Hungary, and which is indispensable for the elaboration of a national gene conservation programme. 
Protection Scheme of Farm Animal Gene Reserves 
Concerning the conceptual system of the protection of farm animal gene reserves the triple unit of the superimposed terms of gene bank – gene protection – gene conservation is completed by gene rescue, a term introduced in the conference. This way different terms used in the national technical literature became unified. The scheme is shown in the chart below, which was the logo of the conference, as well.
Brief explanation of the concepts:
The goal of the protection scheme is to preserve, maintain, collect, protect, record as well as make possible the use of the genetic resources of farm animals in order to conserve biological diversity. The protection scheme of farm animal gene reserves is built up from sub-systems in a pyramidal structure which need to be permeable for professional reasons in both directions.
The purpose of a gene bank is to conserve the genetic information resources of farm animals (species, breeds and varieties). Gene banks form the basis of the protection scheme of gene reserves and are safeguarded by state owned institutions. In a gene bank gene reserves are kept first of all in vitro, (i.e. frozen under laboratory conditions), and additionally in vivo (i.e. alive ex-situ) under artificial conditions.   
Gene protection (or the conservation of genetic resources) is the second level of the protection scheme of gene reserves controlled by breeding organizations and included in their breeding register. It aims the maintenance of farm animal breed stocks of a gene bank value and their breeding in natural, live state (i.e. by in vivo, in situ methods) without changing the genetic bases and in the original place of breeding (in situ). 
Gene conservation (or conservation by management on farm) aims at the further propagation and use of conserved farm animals. Its goal is to develop breeding and productive stocks suitable for the production of animal products and, in certain cases, also of farm animals by crossbreeding, keeping the fundamental points of view of gene reserve protection in mind. Gene conservation thus covers conservation of the originality, use, restoration (if needed) and quantitative or qualitative improvement of the stock in the course of production (of food, raw material for clothing or tractive force).   
Gene rescue was introduced as a new concept, as an important complementary element of the protection scheme of gene reserves. It aims that all the valuable heritage of our farm animals to be preserved (critically endangered breed, native/local breed, type, variety, individual population or even a fixed, characteristic trait) be sustained in its original form. Gene rescue can be that of gene bank, gene protection and gene conservation alike.